TECHNICIANS AVAILABLE IN: Allendale

Your Plumbing, Heating, And Cooling Specialists In Allendale , NJ
When searching for a reliable plumbing and HVAC company that render installation, repair, and maintenance service that will put your mind at rest, then Priced Right Plumbing, Heating, and Cooling is the right one for you!
We offer the following services:
Emergency Plumbing
Heating Repairs & Installation
Air Conditioning Repairs & Installation
Sewer & Drain Cleaning
Water Heaters Repair & Replacement
Furnace Sales & Services
Boiler Sales & Services
Oil To Gas Conversion
Frozen Pipe Repair
Expert Plumbers:
We have excellent plumbers who are experts when it comes to plumbing. We provide reliable plumbing services for leaks to problems like pipe and drain repair, clogged pipes, and sinks, as well as new installations and replacements. We're available 24/7 for all your plumbing repairs, and we use video cameras for inspecting pipes for any blockage. We also help in cleaning and maintenance of your sewers. Should you need sump pump repairs, replacements, or installations, Priced Right Plumbing can handle that too!
Air Conditioning Service:
Apart from installation of a new air conditioning system, we offer reliable and fast air conditioning repair services that will save you from the summer heat. Our technicians will diagnose and fix any type of AC in respect of the maker or model. Not only do we repair air conditioners, we offer maintenance service that will make your air conditioner last longer and also boost its performance so it runs perfectly every time. We also offer replacement of your old air conditioning system should the old one be beyond repairs. We can handle every aspect of your air conditioner such as thermostats, condensers, and heat pumps.
Heating Services:
When your old heater breaks and repairs don't work, just give Priced Right Plumbing, Heating, and Cooling a call. Our HVAC technicians can diagnose and replace heaters of any make and model. Our heating technicians can help you choose the right heater for your home or business, and find you something that fits your budget! Installing a heater is stress-free when you hire us! In the event that your water heater no longer produces hot water, you can trust us to assess the situation and guide you on if you need repairs or a replacement water heater. At Priced Right Plumbing, Heating, and Cooling, we even help you convert your heater from oil to gas, and make the entire process a breeze!
Our services are affordable and we offer emergency repair service 24/7 throughout the year so you have a trusted plumber and HVAC technician available to you at all times! We pride ourselves on 100% customer service for every plumbing, heating, and air conditioning repair, replacement, or installation! Call Priced Right Plumbing, Heating, and Cooling today for the best services in the North NJ area!
At Priced Right, we offer the following hot water heater services:
Hot Water Heater Repair
Hot Water Heater Replacement
When you have an issue with your hot water heater, you need a professional you can rely on 24/7. Hot water heaters can suffer from normal wear and tear, and then there are more technical problems that are a result of poor installation. At Priced Right Plumbing, Heating, and Cooling, we're dedicated to providing you with the best hot water heater repair and replacement services. No matter if you have a residential or commercial hot water heater, Priced Right is here to assist you.
Water Heater Repair
Both residents and business owners know how important it is to have running hot water. Whether it's hot water for your sinks or showers, Priced Right understands that it's crucial to have an efficient hot water heater. Our technicians are highly-skilled and licensed on all makes and models of hot water heaters including tank and tankless water heaters. If you wake up in the middle of the night and don't have hot water, or you jump in the shower before work and get hit with cold water, call us immediately! We specialize in 24-hour hot water heater repair in North NJ. Priced Right technicians will be able to quickly diagnose what's wrong with your hot water heater and determine what needs to be repaired. Whether it's a valve or a wire that needs to be tightened, Priced Right can handle it. Call us for water heater repair anytime day or night, 365 days a year!
Water Heater Replacement
When your hot water heater is beyond repair, only a professional heating technician can handle the replacement process. After a thorough diagnosis, we can determine what part needs to be replaced or if you need a completely new hot water heater. We can replace the burner, valves, switches, vent, power supply, thermostat, and drain. If it comes down to replacing your water heater, we can recommend the best tankless or tank water heater for your home or business. We'll then install it quickly and remove the old water heater. Call Priced Right for efficient water heater replacement in North NJ!
Your Professional Water Heater Repair & Replacement Specialists In Allendale , NJ
Sign Up For Our Insider Program For Future

Deals And Discounts!

An Additional $10 OFF For All First-Time Customers Who Subscribe!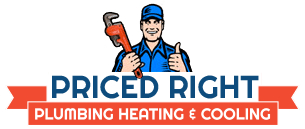 Priced Right Plumbing Heating Air Conditioning